More Articles
What Is Welfare?
Career Development Assistance
Child Care and Child Support
Counseling Assistance
Disability Assistance
Disaster Assistance
Education and Training Benefits
Energy Assistance Programs
Food and Nutrition Assistance
Grants and Scholarships
Healthcare Assistance
Housing Assistance
Insurance Assistance
Temporary Assistance (TANF)
News Headlines
Disability Assistance
Disability Assistance
Having a disability can be difficult emotionally and financially because you may be limited in the activities you can participate in and the medical bills can be overwhelming. Fortunately, there are many government benefits and assistance programs available to individuals with disabilities.
Due to your disability, it can be difficult to work, pay for needed medical care, maintain your health, cope with day-to-day living routines, and interact with your family or the community.
The government has recognized that individuals with disabilities may need financial and other assistance to live a productive and fulfilling life.
The two main government programs to assist those with disabilities are Social Security Disability (SSD) benefits and Supplemental Security Income (SSI).
In addition to these main disability programs there are many other programs that assist with the special needs of disabled individuals.

Architectural Barriers Act Enforcement
This program was designed to help if you are subject to discrimination based on your disability within Federally assisted programs. This helps disabled individuals that claim they have been denied financial assistance or housing due to discrimination.
Assistive Technology Act Program
The Assitive Technology (AT) program provides money to states to improve access and acquisition to assistive devices. The actual services vary by state, but generally provide assistive computers, prosthetic or orthopedic appliances, and transportation devices. With the advancement in technology, there are some very high tech assistive devices that greatly enhance the life of individuals with disabilities.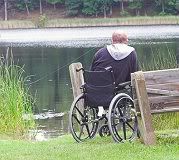 Christopher and Dana Reeves Paralysis Resource Center (PRC)

The PRC provides for the health and well-being of individuals living with paralysis and their familes. The center provides highly trained staff that can answer your questions and provide information on living with paralysis. They can assist with locating rehabilitation facilities, explain insurance issues, and finding support groups. They also can provide you with a free Paralysis Resource Guide.
Early Intervention Program for Infants and Toddlers with Disabilities
This program provides each state with money to assist parents identify if their infant or toddler (under the age of 3), is disabled. It your child is found to have any developmental delay, the state may provide the funds for evaluations and tests, help develop and review an Individualized Family Service Plan (IFSP) at no cost. Additional early intervention services are decided by each state, but may include a fee-for-service or sliding fee scale.
Independent Living Programs
There are several programs that help support independent living by individuals with disabilities. These include funding Centers for Independent Living (CIL) which are non-residential centers that are designed and operated with the community by individuals with disabilities. These Centers for Independent Living provide individual living skills training, role modeling, counseling, and planning events that provide individuals with disabilites to interact with their non-disabled peers.
Additional independent living programs provide assistance for older individuals that are blind, and grants to states to help promote independent living through training, legislation, and community organizations.
Special Education Programs
The Special Education programs provide grants to states to provide free and appropriate special education to children between the ages of 3 and 21. Children that have disabilites that have been identified under the Individuals with Disabilities Education Act (IDEA) can get special educational assistance through their local school system. This program can help children with disabilities develop their educational needs through a free, structured, teacher assisted program.
There are also programs that are designed to help parents get the training they need to understand their rights and protections under IDEA. This allows parents to participate in the planning and decision making that needs to occur with special education for their children.
Veteran Affairs Disability Assistance Programs
There are a lot of disability programs to assist veterans' of the armed forces. Many of the programs are designed to assist with specific disabilities such as birth defects. Additional disability programs help with health care needs, insurance, pensions, and vocational rehabilitation.
WhatIsWelfare.com is an information website owned by What Is It LLC.
Learn more about What Is It at MyWhatIsIt.com... "We Simplify The Complex".
© 2015 |
Privacy Policy
| Powered By
|